Attorney Profile
Ruth J. Irvings concentrates her practice in estate planning and mediation. She works with individuals and couples to understand their goals, educate them on their options, present alternatives based on the most up-to-date techniques, and craft plans that meet their current and future needs. Her objective is to make the process comprehensible and satisfying to her clients and produce a high-quality result. Her practice includes will and trusts; estate, gift, and income tax planning; advance planning for illness and incapacity; pre- and post-nuptial agreements; and post-death asset and trust administration. She also handles marriage, domestic partnership and parenting planning for same sex couples.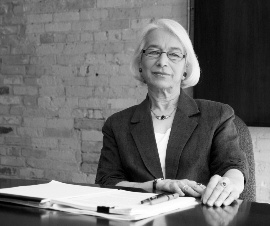 Ruth has an undergraduate degree from Brandeis University, magna cum laude, Phi Beta Kappa, and a J.D. from Stanford Law School in 1975. She joined Legal Action of Wisconsin as an attorney after law school, and served as its Executive Director from 1982 until 1990 when she entered private practice. In 1998 she co-founded Nelson, Irvings & Waeffler (later Nelson Irvings & Wessels) where she practiced until opening the Law Office of Ruth J. Irvings, LLC in 2014.
Her peers have recognized her professional excellence. In 2016, she was selected as the Woman of the Year by the Wisconsin Law Journal. Click here to see a video of Ruth receiving this professional honor. Since 1994, she has an AV Preeminent Peer Review Rating from Martindale-Hubbell, awarded to lawyers recognized for the highest levels of skill and integrity. Beginning in 2006, she has been included annually in the peer-rated Best Lawyers in America.
Ruth is in great demand as a speaker, commentator and advisor on same sex marriage issues. She is well known and respected for her years of experience and her expertise representing same sex and other nonmarital couples, and was involved in the drafting of Wisconsin's 2008 Domestic Partnership Act. She speaks regularly to professional and community groups on lifetime and estate planning, domestic partnership planning, and marriage issues for same sex couples, and contributes to publications designed to educate lawyers and members of the general public.
Throughout her career, Ruth has been involved with community and bar organizations. She is a founding member and a past President of Sojourner Truth House (now Sojourner Family Peace Center), Milwaukee's first shelter for battered women. She has served in the past on the Board of Directors of the Mental Health Association in Milwaukee, the Milwaukee Jewish Council, Milestones Programs for Children, and the Jewish Home and Care Center Foundation. She recently stepped down from the board of the Fair Wisconsin Education Fund after many years of service, and she currently co-chairs the Congregation Shalom Community Relations Council. 
Ruth's contributions to the community have been publicly recognized: she received the Liberty Bell Award for service to the public, the legal community, and the organization from the Milwaukee Young Lawyers Association, and the 2009 Community Leadership Award from Diverse & Resilient.